Agar.io Online is a big fish game swallowing small fish but designed extremely unique and new not only by images but also by gameplay with many interesting features.
---
Feeding Frenzy or Hungry Shark Evolution are still the names that are often mentioned when referring to the series of big fish games that swallow small fish. The player's mission is merely to eat smaller fishes for becoming bigger. In Agar.io, the gameplay is similar but instead of being a fish, you will transform into a very simple dot.
In online games, Agar.io game has a new style with easy-to-understand gameplay and create a craze in the online community when it comes to entertainment with this impressive game genre, the way to play as well as big fish to eat small fish which is very simple, you just need to move your colorful image to eat other small fish to become bigger and stronger, when the opponent is stalking to swallow you. So we need to follow this lopte Agar.io game to fight survival and eat lots of other fish and grow up.
Before playing, Agar.io offers a lot of game setup options. You can choose as a guest or log in account, select the playing area according to the terrain, screen resolution with 5 options suitable for your network speed or 4 game modes. Six image setting options include:
– No skins
– No names
– Show mass
– Dark theme
– No colors
– Skip stats
Game modes includes:
– FFA
– Teams
– Party
– Experimental
The options above allow you to play games with colorful dots or just play black and white if you like. In addition, you can play without displaying the name or view achievement statistics after the end. Just drag the mouse, you will control your dots on the table and eat smaller dots. As a child you will move very fast but the bigger the speed, the slower it will be. Agar.io looks simple but also possesses many interesting features. For example, the player can split (turn into 2 smaller dots) to lure the opponent or the table to play in the same areas as the magnetic field causing the dot to be distorted and the player cannot pass through.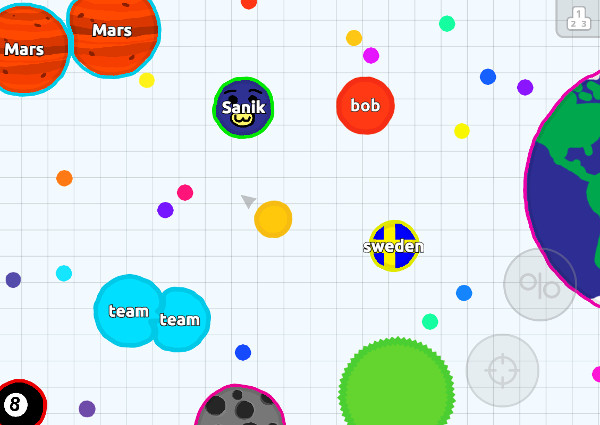 One of the more interesting things is because players can choose servers in different places, you will see a lot of online players with very interesting names. Highscore player rankings are also displayed in the right corner of the interface. If you work hard for a long time, you can have a dot size so big that it is much bigger than the display. Although it does not bring chat features (and probably does not have the time to chat when playing), knowing that you are playing with a lot of gamers actually brings a more interesting feeling to playing with AI.
A note that every player also needs to remember, flexible and clever mouse control is the key to keeping life in this game. Although looking simple, if you do not know how to control your fish moving, away from other big fish, soon the player will lose, but not to consider climbing the ranking of 10 strongest people. Don't go too far to eat other small fish that forget that both behind and in the front are countless large fish gaping for you to enter yourself. Therefore, players do not subjective but be very careful each step of yourself, move cleverly try to avoid all other great creatures. So you will be sure of half the chance to climb the Leader Board.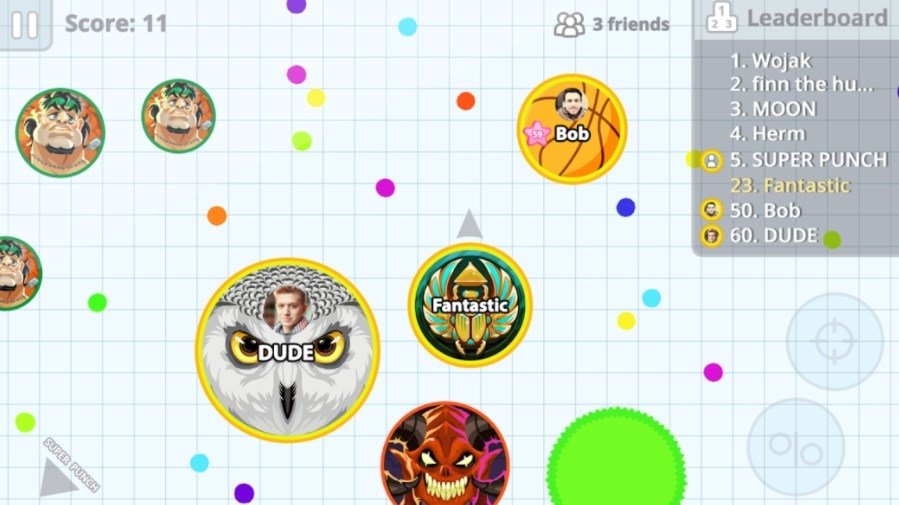 It can be said Agar.io is a good choice and interesting when you want to play big fish game to eat small fish online. When playing, if the computer responds slowly, the game will also have a message telling you to choose a lower graphics quality, turn off other tabs on the browser to get the best gaming experience. The world of Agar.io's incredibly colorful dots will surely bring many hours of relaxing entertainment. Is there any other strange space or attractive feature in the immense world of Agar.io? Please explore for yourself.